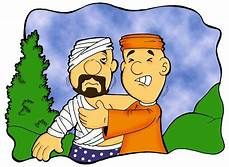 The first Good Samaritan is recorded in Luke 10. While a man who was on his way to Jericho, he was attacked by robbers. He was left on the roadside beaten and half dead with barely any clothes on. Both a priest and a Levite passed by and ignored the beaten man that was laid there half dead.  
A Samaritan then came by on his donkey and noticed the man that laid there beaten. The Samaritan got off his donkey/ high place and came down to the level of the man that was beaten. The Samaritan bandaged his wounds, lifted the man up on his donkey, and then brought him to an inn so he could be taken care of. At the inn there was a debt to be paid to take care of the wounded man, so the Samaritan paid the innkeeper with 2 coins. The Samaritan had to leave but told the innkeeper to look after the wounded man and on his return, he will reimburse any expenses that were accrued.  
Now let's look at the 2nd Good Samaritan.  
Jesus was in the throne room of heaven and his father, God, looked down on humanity and saw something very disturbing. He saw his creation that he loved, living their lives contrary to what God's purpose is. Humanity was dabbling in a sinful lifestyle. You know a little of this tiny sin and a little of that sin won't hurt anyone. But it did and does and has destroyed lives. The sinful lifestyle of people became very profitable for others. (Ex: porn, alcohol, drugs). You see, humanity was beaten and left half dead on the roadside. Look what is says in Ephesians 2:1 
As for you, you were dead in your transgressions and sins 
The sad part is that people then and today don't even realize that they are beaten and half dead. The world passes by and ignores it and doesn't worry about it.  
So, what does Jesus do? He gets off his high place (Heaven) and comes down to earth (the human level). He came and bandaged our wounds by teaching us, sharing his love, performing miracles, healing people, forgiving sins, and telling them about heaven. Jesus was and is trying to get as many people as possible to join him in heaven.  
Oh yes, there was a debt to be paid just like there was a debt to pay to the innkeeper. Instead of coins, the price was blood. Jesus's blood. That blood came on the cross. The good news is, Jesus was raised from the dead, so the debt has been paid. This was an act of love. 
As the first Good Samaritan lifted the beaten man on his donkey, Jesus lifts us up as well. Look at these verses: 
By his power God raised the Lord from the dead, and he will raise us also. 
 1 Corinthians 6:14 
Since, then, you have been raised with Christ, set your hearts on things above, where Christ is, seated at the right hand of God. 
  Colossians 3:1 
As the innkeeper said he would return to pay all debts, so will Jesus return but the debt has already been paid.  
Be Blessed