What's happening with Dave Panico ....
Greetings and welcome summer.
It's been busy with me having my daughter graduating college and my son graduating high school. I'm excited now to see how God will lead them. At the end of the year, both my daughter, Eleanor, and my son, Samuel, performed their final musical performances of the year. I have to say I'm pretty amazed at their talent. They wow me. It's exciting to see that and I'm proud of them.
I've been playing out at the Iron Horse Grill on Tuesdays a couple times a month and it's been great to get outside and play in the deck and meet new people. If you happen to be in the area, please check it out. I'll be at the Westport Flea Market this Sunday night.  They have some of the best burgers in town. My show schedule is at: https://soaringsaxman.com/shows
Check out the Soaring Sax Store!!!
I opened a store in where you can purchase bundled music, private concert, or some FREE merchandise. Please be sure to check it out if you already haven't. Also, the website has a new look and feel. at: https://soaringsaxman.com/soaring-sax-store
The Great Check Mate..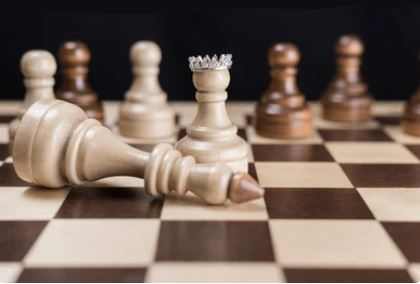 The term Check Mate is used in chess when the king has no more moves and is captured.  It's a strategy game and the object is to capture the king.
We just recently celebrated Easter and I have been reflecting on some of the What If scenarios that could have happened. You see Easter was about a battle between the 2 greatest adversaries – God and The Devil.  The devil did not want Jesus to go to the cross because he knew he was the son of God. In fact, he tempted Jesus three times and tried to get Jesus to submit to him. Jesus refused. This is recorded in Matthew 4.
Jesus healed, taught, and performed miracles for people and had a great following. He let people know that he was the son of God in which he is. Now the political leaders refused to believe him and accused him of blasphemy. So, Jesus was questioned, beaten, and the people turned against him, and he was then sentence to death on the cross.
Now what would have happened if the devil got all the people to believe that Jesus was God? Jesus would not have had to go to the cross and none of our sins would have been paid for and all of humanity would be doomed.
Not going to the cross is what the devil wanted but having the devil to get people to accept Jesus as God is contrary to his character. The Devil is in a dilemma. Looks like God had him cornered.
So maybe the devil orchestrated the cross to put an end to Jesus but then Jesus conquered death.  Could it be then that God used the devils wicked schemes to benefit all of humanity and bring the glory to Jesus? This is the great Check Mate.
Read Romans 8:28
And we know that for those who love God all things work together for good, for those who are called according to his purpose.
And here is Proverbs 21:30
There is no wisdom, no insight, no plan that can succeed against the Lord.
You may think you may be in a bad situation because of a bad decision but God can turn it around.
THANK YOU SO MUCH for the letters and the support this past year. I appreciate you and your comments. Please continue pray for our leaders and the medical community. Also be safe and please take precautions to keep others safe.
Be blessed.