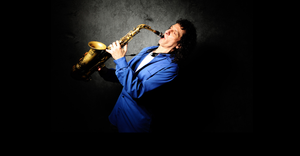 "

Considered One Of The Best" - Ussmoothjazz
Dave Panico, "The Soaring Saxman", is considered to be Saxophonist Extraordinaire by his fans. From the very first note, his music and heart will take you places you've never been. The passion and emotional power that comes from his horn will reach down to the very core of your soul. 
Unlike some artists who limit themselves to a singular style and set of influences, Dave cites a fascinating array of jazz legends and contemporary greats as having an impact on his own exciting mix of compelling melodies, strong rhythms and transcendent improvisations. His instrumentation consists of alto, soprano, tenor, baritone saxophones along with flue and native flute. 
Having received Instrumental Artist of the Year Award at the 2007 and 2015 Kansas City Christian Music Awards, along with receiving a nomination for the acclaimed Instrumental Artist of the Year Award in 2008 from IndieHeaven-Momentum Awards, Nashville, TN, Dave Panico is making a "sound" for himself.
His Vision is to touch the essence of the inner heart and his Mission is to open doors that lead to healing of hardships and struggles in life.
Dave currently has 3 CD's out "Soar", "JoyRid'N" and "Tasty Treat"
Music
New Release "Hang'N With The Breeze"
Please contact me for any Inquiries. Thanks!!