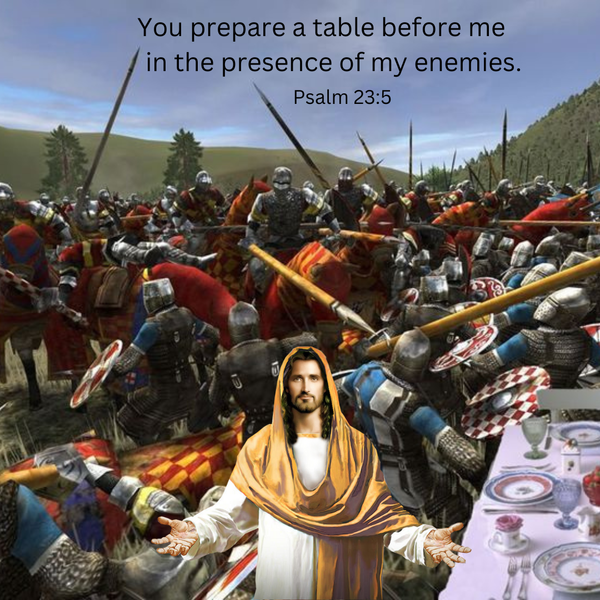 The last thing on your mind in the midst of a trial or fierce battle is sitting down and enjoying a meal while the battle is going on. Especially while the enemy is closing in on you, well, that's what David writes in Psalm 23 verse 5: 
You prepare a table before me 
    in the presence of my enemies. 
Enemies are surrounding David and God is inviting him to dine with him while his attackers are closing in. I imagine a nice table with a white table cloth and Jesus standing there. You may think that this is insane. And one may feel frightened or scared to have a meal while you're about to get attacked. So what's going on here? 
First remember who is offering the meal. It's God/Jesus. Second, God/Jesus Is not afraid of the devil. He conquered the devil at the cross. One breath of his would put is enemies on their backs helpless. When God speaks, his word does not return to him void. Look at Isaiah 55:11 
  "so is my word that goes out from my mouth: It will not return to me empty, but will accomplish what I desire and achieve the purpose for which I sent it." 
So why worry when you have superman sitting next to you at the table? 
Think about this, when you or I start worrying and stressing over the battle, we are trying to fight the battle on our own. It's a heavy burden to bear. When we can truly let go of the battle and give it over completely to God, then it becomes God's problem and not mine or yours to bear. That should release the load of worry and stress. The hardest thing is to truly trust in God and when we are able to do that, then we can enjoy that meal and feel at peace despite our surroundings. Remember, God is on your side.